Jessica Ristau is an Authentic kid voice over artist providing child, tween and teen voices for various characters, items, invisible entities and beyond.  For Jessica, the fun begins with assessing exactly who these characters are, what their attributes are, what their limitations are and how wild and crazy you would like them to be.  Jessica can spend hours and days creating the perfect voice for the role, if time is provided.   Jessica makes up voices on her own time too and sometimes they are a perfect fit for a new project.
Below are a few examples of how Jessica approaches characters or animations.  She needs to become the character inside and out. These examples are a tiny portion of the characters that Jessica voices.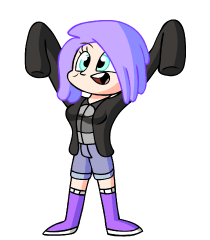 Dan is short for Danyel. She is a 14 year old girl who identifies herself as a potato when it comes to relationships with people. Therefore Dan loves potatoes, always, everywhere and all of the time. When the producer approached Jessica with the idea of Dan, initially Jessica was a bit wild, but the producer wanted it over the top. So Jessica reworked her Dan character to be a totally outlandish teen character who speaks in strange segments, has friends who think she is quite kooky and Dan, despite her outlook on life, is an extremely talented teen who is finding her way through her teenage years.
 Kylie is a lead character who goes on adventures and mysteries similar to Scooby Doo.  Kylie is a nature girl, which is the same as Jessica.  Kylie and her gang are always experiencing new adventures and encountering situations where they need to fix the problem or they will be in big trouble with their parents.   Jessica had an interesting experience with Kylie, she and a friend accidentally had a situation where they were body-swapped.  With this situation Jessica needed to study the character she swapped with so she could speak with his same attitude and overall outlook to voice him while she invaded his body.  She also had to learn his way around his house and find his room while he did the same in her house.  To top it off they were two different creatures so suddenly not having a tail or eating his natural food was not very thrilling for the character.  Jessica pieced all of this together to become the friend until they were body-swapped back to normal.
Jessica has created many fun characters and voices that are needed for a specific production at a specific time.   Each specific character for voice over can have its own personality, sound and  unique attributes.
For a princess type of sound Jessica had a few roles to supply voices for for a game app on Libii Games, an app full of various games for children.  The first princess had a really tough time, she was a red head, just like Jessica.  She spent the day outside and got a  horrible sunburn.  Jessica had to be a high pitched slightly whispery princess who went through a very tough time relieving her sunburn.  She also had a wonderful meal and met lots of friends in this app.
Jessica voiced a cell phone for a video game.  She was an electronic technological whiz spouting off various facts about the evolution of electricity.  For this project Jessica needed to sound like a young whiz kid.  She sounded technical, informed and full of information for the game.  This was a dubbing project being translated from another language to English.
Occasionally Jessica is requested to provide a voice for young boy roles.  Jessica uses her natural voice which can be considered a younger boy voice in many situations.  She has portrayed roles on movies, internet videos, apps, commercials and e-learning projects.
Jessica provided voice over for an entire series of online playing projects.  She was the voice or Barbie, Chrissy, a puppy and other toy products.  She would voice Barbie and the other characters as a human moved the dolls around in a play situation with Barbie themed houses and accessories all around.  Barbie also interacted with superheroes to save the day when the bad guys tried to kidnap Barbie or some of her friends.
Jessica has had incredible training in characters and animation with an amazing group of coaches from around the country. David Rosenthal coached Jessica for a series of several months. He taught Jessica the incredible art of becoming a character or animated figure. The training was intense and Jessica graduated with flying colors after months of training and was rewarded with her animation/character demo. Jessica still coaches with David every few months for a check in, as most voice over artists do with their coaches. Jessica has also coached in group classes and individual with animation voice over pros: MJ Lallo, Katie Leigh, Lisa Biggs and Joyce Castellanos.